Plein Air residencies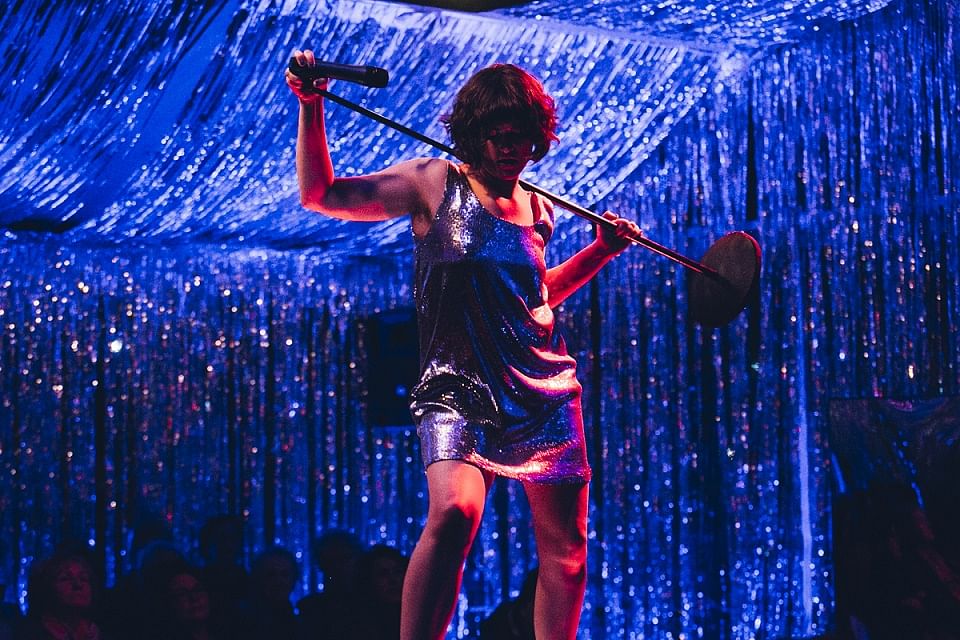 Image:Kate Holmes

Plein Air is an open-air residency program that invites companies and individuals to experiment in the Quad. The residency invites cross-discipline exploration across all arts forms and industries and encourages ideas to be tested in a public space.
Plein Air Residencies 2021:
Flood Stories | Jeanti St Clair | April 28 - 6 May
Flood Stories is a participatory audio storytelling project to be installed in a shipping container at The Quad. The installation features audio stories about the 2017 Lismore flood, gathered through a storytelling workshop and interview process. Visitors are given a raincoat and gumboots to wear as they walk The Quad and Lismore CBD while listening to one of the flood stories.
Artist Statement
For me, Flood Stories is a way for our Northern Rivers community to reflect on our preparedness for future floods and climate emergencies, and we will do this through both telling and listening to our stories of the 2017 flood that devastated our region. This project builds on my practice as a documentary maker and audio walk producer, including the Nimbin Soundtrail. I am broadly inspired by the Empathy Museum's A Mile in My Shoes project, which suggests that when we walk as if in someone's shoes, we are more open to understanding their experiences. Flood Stories will also provide a reflective focus for our community to remember the flood on this third anniversary.
More 2020 residencies to be announced

Plein Air Residencies 2019:
Seed Arts September 2019
Seed Arts mission is to co-create high quality, socially engaged community arts projects in partnership with regional and remote schools, local government and non-government organizations and businesses. The Quad was thrilled to host Seed Arts as Artist in Residence in 2109 over 3 weeks in September.
Professional tight-wire artists presented workshops and free public performances for targetted youth and community. Housed in a shipping container at the Quad, the Seed Arts residency culminated at the Quads annual Playground Festival.
Thank you Seed Arts!
https://www.facebook.com/seedartsaustralia/
Plein Air Residencies 2018:
Riots of Passage | Artist Rosanna Pimm | March 2018
Inspired by both personal health and recent travels, Riots of Passage is a discussion on the taboo of menstruation.
The project documents the links between menstrual shame, poor education and a continual cycle of poverty for women in India. In a broader context, this project intends to facilitate dialogue around feminine sexuality, equality and shame present within our own society and how we, together, can continue to create change.
A performance installation of this work took place in the Quad on International Women's Day as part of the women's festival on March 8.
Open-air Cinema – Imagine Science Film Festival | May 2018
The Quad screening was the first-ever Australian screening of films from the Imagine Science Film Festival in New York. The Quad partnered with Southern Cross University's LabX and Associate Professor Grayson Cooke to bring the Imagine Science Film Festival to Lismore. The ISFF produces annual science film festivals in New York, Paris and Abu Dhabi, as well as satellite events worldwide, and serves as a major venue for the release of new and experimental works bridging the worlds of science and film.
For more information on Imagination Science Film Festival visit www.imaginesciencefilms.org

Wonderbabes By Kate McDowell

Wonderbabes was the world premiere of a new experimental performance work by local artist Kate McDowell. It was co-presented by The Quad and NORPA. Set in Byron Bay on New Year's Eve Wonderbabes was the epic story of one young woman's incendiary journey through the night
Innovate :: Situate Design Prize | October 2018

A call out for aspiring designers to design dynamic, sustainable and innovative structures to be installed in the Quad over summer.
The successful submission will be chosen by a panel of industry professionals. They will then work with the Quad Placemaking Officer to further develop the design ready for installation in late September.
The overriding purpose is to test different ways that the precinct can be utilised by audiences, children, and the general public. The project is also interested in profiling sustainable materials and practices, creating micro venues and spaces to re-purpose the use of the site and provide shade during the hot summer months.
The longer term vision for this project it to see what structures might be built permanently into the site in the future.
If you would like to apply to take part in the Plein Air Program please contact the Placemaking Officer on jane.fuller@lismore.nsw.gov.au