On Thursday 15 April and Friday 16 April, The Quad and surrounding buildings will come alive with a half-pipe, skating comps, DJ's, comedy,, and a huge workshop program that offers everything from street art to bush survival! Lismore Regional Gallery will feature youth art exhibitions by Defiant / Beyond Empathy and The Rainbow Collective (LGBTIQ Youth Group).
FULL PROGRAM - Click to zoom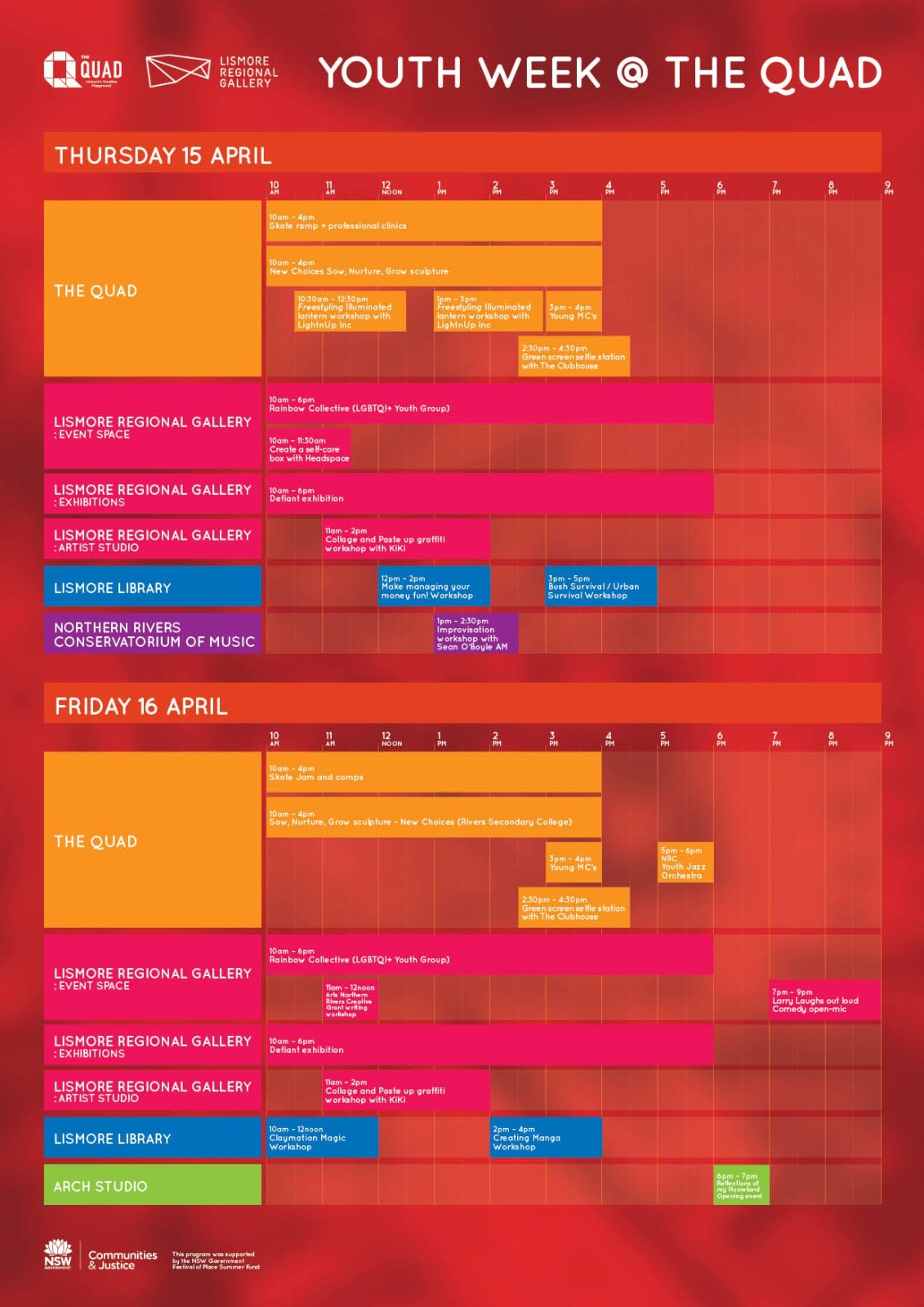 QUAD OUTDOOR PROGRAM
Skateboard Lessons Thursday 15th April:
On Thursday 15th April professional coaches from Popsgood skate crew will be offering free lessons to community members on the portable Mini Ramp/Halfpipe we're bringing in espescially for the festival. Whether it's your first time skating or you are just interested in learning some new tricks to add to your collection, the instructors will be sure to help you get to the next stage! Don't be shy, bring your friends. The only competition on this day is against yourself! There will be all girl clinics as well as catering for all abilities.
Skateboard Competition and free skate Friday 16th April:
On Friday 16th of April come down and skate the Mini ramp/Halfpipe. Throughout the morning practice your tricks and get tips from our professional skateboard instructors. In the afternoon try your luck in our Skateboard Comp/Jam!! we will have 2 divisions (15 & Under) & (16+). Prizes for our top 3 riders in each division.
To take part in any of the skateboard lessons you'll need to come down and sign-up on the day. Numbers are limited. Session times to be released soon. BYO helmet if possible!
SIGN UP FOR SKATING NOW HERE https://chalkies.com.au/pages/lismore-youthweek
LIVE HIP HOP SHOWS
THURSDAY 15TH APRIL | 1.30 -2.30 | ANEMOI
Bodhi Dey, Local 18 year old Artist / Rapper performing as ANEMOI, is joined by 20 year old Patrick Tickle, One half of the Producer duo known as Nuwire. ANEMOI and Nuwire will be showcasing their Hip-hop collaborations along with a variety of genre-spanning independent tracks.
THURSDAY & FRIDAY 3PM - 4PM | YOUNG MC'S
Coming together for Youth Week in Lismore after a successful launch at the Defiant art exhibition, local Hip Hop artists Meals & Narli present 2480's freshest rap talent Jade and special guests, ready to set the level at the Quad. An MC in the truest sense, Lismore/Gold Coast MC Jade Kururangi is taking the art of Hip Hop to its virtuosic potential with style and finesse beyond his years. Backed by the musical expertise of Marley Berry (aka Meals) and side by side with one of the most exciting and powerful young Indigenous MCs Narli, Jade will be joined for the cypher by special guest rappers direct from the streets. Come and celebrate a new wave of rap music and Hip Hop culture in Lismore!
No Bookings required
NORTHERN RIVERS CONSERVATORIUM YOUTH JAZZ ORCHESTRA
FRIDAY 16TH APRIL | 5PM - 6PM
Straight of the back of a stellar performance with the internationally acclaimed James Morrison, the Con's Youth Jazz Orchestra will play in the twilight under the direction of Resident Creative Artist Sean O'Boyle AM. YJO, as they are affectionately known, relish the challenge of mastering and performing Latin, Swing, Funk and Ballad tunes by composers and arrangers such as Sammy Nestico, Duke Ellington and Bob Mintzer. When you see YJO perform, you are hearing some of the most talented young musicians across the Northern Rivers region. In fact, many YJO alumni have gone on to further study at the some of the top tertiary institutions across the country including Brisbane Conservatorium and Monash University.
YJO perform regularly across the region and over the years have had the pleasure of sharing the stage with such stellar artists as John Hoffman who has played with Ella Fitzgerald and Frank Sinatra, internationally acclaimed pianist and composer Paul Grabowsky and leading music educator and conductor Richard Gill. The Music Director for YJO is Sean O'Boyle, Resident Creative Artist for the Northern rivers Conservatorium. Sean is an internationally acclaimed conductor and composer who has collaborated with orchestras such as the Berlin Philharmonic, Royal Philharmonic and every major Australian Orchestra. As a jazz artist, Sean has performed with James Morrison, Tommy Emmanuel and Kate Cebrano.
No Bookings required
NORTHERN RIVERS CONSERVATORIUM OF MUSIC IMPRO WORKSHOP | Thursday 15th April | 1-2.30pm
Concert Room | 152 Keen Street, Lismore
Improvisation Workshop with Resident Creative Artist, Sean O'Boyle AM
Improvisation – the art of making things up – has been a key part of making and creating music for centuries.

Learn new skills and explore your creative potential.

The workshop will focus on listening with a willingness to make sound using acoustic instruments and body percussion.

Rhythms will be explored and a simple approach to improvising using 12 bar blues
Bookings essential https://enrol.nrcac.edu.au/workshop_improvisation/
LIGHTNUP ILLUMINATED SCULPTURE 'FREESTYLING'
THURSDAY 15TH APRIL
Come along and create your own 'illuminated sculpture' with the crew from LightnUp
We will provide all the materials cane, tape, paper, glue and LED candles.
Suitable for young people 16 - 25. Families are very welcome, young people 10 years and under must have an adult companion, as we will be using secateurs and craft knives.
Each session is 2hours 10.30am - 12.30 pm and 1.00pm - 3.pm
Please arrive on time so you get to finish your sculpture
10 participants per session / Bookings on arrival
____________________________________________________________________________________________________
LISMORE LIBRARY
110 Magellan Street Lismore
THURSDAY 15 APRIL
How to be a Rich Kid 12pm – 2pm
Learn what it takes to have all the things you want, this Youth Week! This workshop teaches you how to make money work for you so you don't have to work for it! Made available through Club Grants, with thanks to Lismore Workers Club. For ages 12 – 19. Make managing your money fun!
Bush Survival/Urban Survival 3pm – 5pm
This Youth Week learn from an Army Survival Instructor how to survive and be found in the bush. Then see how these skills help you get ahead in life! Bring pen, paper, curiosity and questions, as well as a hat for the outdoor activity. For ages 12 - 19. This workshop has been made available through Club Grants, with thanks to Lismore Workers Club. Spaces are limited, bookings are essential. Phone Lismore Library on 02 6621 2464 to book your spot.
FRIDAY 16TH APRIL
Claymation Magic Workshop 10am – 12pm
Let your imagination go wild during Youth Week. Learn how to create your own clay characters, then watch them star in a short, animated mini movie! For ages 12 - 19. This workshop has been made available through Club Grants, with thanks to Lismore Workers Club.
Creating Manga Workshop 2pm – 4pm
This Youth Week, learn the basic techniques used by professional Manga artists for drawing Manga and Anime fan favourite characters. Using these techniques you can then design your own Manga characters and create your own Manga world. For ages 12 - 19. This workshop has been made available through Club Grants, with thanks to Lismore Workers Club. Spaces are limited, bookings are essential.
Spaces are limited, bookings are essential. Phone Lismore Library on 02 6621 2464 to book your spot.
__________________________________________________________________________________________________
LISMORE REGIONAL GALLERY WORKSHOP PROGRAM
Youth Week : Collage & Paste Up Graffiti Workshop - BOOKED OUT
Join local artist and graphic designer Erica Gully AKA street artist KiKi.

Draw, collage and play around with images, then create a paste up graffiti design that will be installed in the Lismore Quad & the outside courtyard of Lismore Regional Gallery.
Creative Grant writing with Arts Northern Rivers
Friday 16th April 11am -12pm | Lismore Regional Gallery Event Space
Grants can be an important part of a successful career in the arts, with many creatives relying on them to support projects, professional development opportunities and the creative development of brilliant ideas.
Grants are also hard work – from working out where to look for them, applying for them and then managing them.
Arts Northern Rivers is the Regional Arts Development. Organisation for our region and often the go-to people for advice about grants. In this workshop Executive Director Peter Wood and Grants Manager Phoebe Rose will help participants to understand what types of opportunities exist, how to prepare for a grant, and learn how to avoid common submission errors. And with a particular expertise in the music industry Phoebe will provide some great tips for those seeking support for their music careers.
HEADSPACE SELF-CARE WORSHOP
Thursday 15th April | 10 -11.30am | Lismore Regional Gallery Artist Studio
Headspace Lismore will be running a 'create your own self-care box' workshop to invite young people aged 12-25 to create take-home coping and stress management tools. Participants will also learn about the 7 tips for a healthy headspace and how they could use these to promote positive health and wellbeing.
Sign up on arrival.
CLUBHOUSE SOCIAL FUTURES

GREEN SCREEN SELFIE STATION | Thurs 15th and Friday 16th
Quad outdoor
Time: 2.30 - 4.30pm
Sign up on day
Come take a photo and print it out on the spot in front of a specialised green screen. You can choose any back drop you like using the custom programmed ipads. Sign up on arrival
Youth Comedy Open Mic NIght with 'Larry' Mitchell from Larry Laughs Loud
Friday 16th April | Lismore Regional Gallery Event Space | 7pm -9pm
Come and see some new young comics trying out their material
BOOK HERE https://www.trybooking.com/book/sessions?eid=734406
_______________________________________________________________________________________________
EXHIBITIONS
Defiant Exhibition: at Lismore Regional Gallery
11 Rural St Lismore, NSW
Opening Night: Thursday 1 April 5.30pm
Facebook event link: https://fb.me/e/100gSNn1N
Exhibition Runs from:
(3 Apr – 6 June 21)
Defiant is an ambitious multi-disciplinary art project which aims to support and elevate the voices of the young people of Lismore and the surrounding areas, utilising creative processes to tell their stories. The process of creating artworks is grounded in nurturing culture and identity, connecting young people with their communities as a way of building resilience and promoting positive patterns of relating. The Defiant project is presented across two venues showcasing the amazing art collaborations between the young people of our region and the following supporting artists: Gilbert Laurie, Oral Roberts, Michael Philp, Jade Dewi, Hannah Bronte, Jesswar, Michael Weir, Abdul Abdullah, Raphaela Rosella, Erica Gully, Joanna Kambourian, Marley Berry-Pearce, Kirk Page.
Defiant Exhibition: Also on show at Elevator ARI (6 Apr – 23 Apr)
16 King St Lismore, NSW
Opening Night: Thursday 1 April 5.30pm
Elevator ARI is Not-for-profit artist run initiative Elevator has opened its doors in the cultural hub of Lismore. Including a gallery space, artist studios and courtyard, Elevator is committed to provide a space of inclusivity and open dialogue.
With a strong focus on experimental artforms including sound art, performance and multi-disciplinary practices, Elevator provides Lismore and the region exposure to art and artists not commonly provided in regional centres. With strong ties to both local and national artists and art organisations Elevator will function as a hub for vibrant cultural exchange, pursuing an engagement of inclusivity and equity bound by a clear idea of arts potential to heal and educate.
Behind the space are local artists, Betty Russ and Michael Donnelly, both graduates of SCU with solid ties to the local arts community and an ambition to draw vibrant cultural experiences to Lismore and facilitate a fluid exchange of ideas and forms with local artists and audiences.
Contact Elevator ARI:
T: 0455 498 935
Rainbow Youth Collective:
The Rainbow Youth Collective is excited to announce that we have joined forces with the Lismore Regional Art Gallery.
From Saturday 6th of March 2021 began facilitating an LGBTQI+ young people and their Allies youth hangout in the Artist Studio at Lismore Regional Gallery located at 11 Rural St, Lismore NSW 2480. These Hangouts are FREE and held on the first Saturday of the month from 11am - 1pm during 2021, with an emphasis on creating a safe space for ALL young people.
You can connect with Rainbow Youth Collective via their Facebook Group: https://www.facebook.com/groups/379868189970683
During Youth Week The Rainbow Youth Collective will have a showcase of art in the Lismore Regional Gallery Event Space from Thursday 15 April till Thursday 22 April
Arch Studio Gallery :: Youth Week Exhibition
Opening Friday 16 April 5.30pm -7pm
Featuring the artworks of 3 young Northern Rivers based women artists; Frewoini Baume, Gaia Heart and Lara Pisarek.
Curated by Frewoini Baume and Claudie Frock=
Facebook event: https://fb.me/e/43bPw4tar
Trybooking link: https://www.trybooking.com/BQIBR
Contact Claudie frock for more details M: 0432 400 753 E: frockonya@yahoo.com.au
Arch Studio Gallery is located at 152 Keen St, Lismore, underneath the Northern Rivers Conservatorium on the Lismore Quad Side, Lismore, NSW, Australia 2480.
_________________________________________________________________________________________________-

Youth Week @ The Quad is presented in partnership with Lismore Regional Gallery, Lismore Library, The Northern Rivers Conservatorium, Arts Northern Rivers, The Clubhouse Social Futures, Headspace Lismore, Elevator ARI and Arch Studio Gallery.
This progam has been funded by the NSW Government Department of Communities and Justice and the Festival of Place Summer Fund.