Together // Alone: The Quad & Lismore Regional Gallery Engagement Program in the time of COVID-19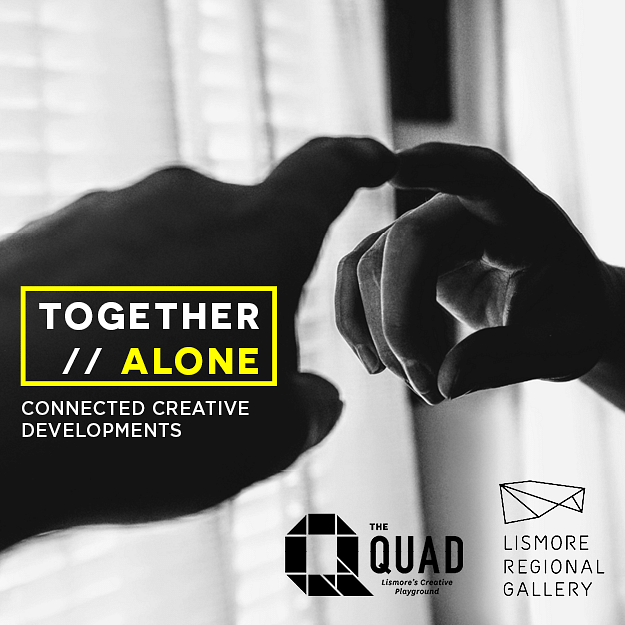 With the Coronavirus outbreak forcing all public gatherings to halt, and galleries and museums closing, we witnessed the cancellation of all art fairs, festivals, gatherings, markets and community celebrations. The Lismore Quadrangle together with Lismore Regional Gallery reached out to our regional artists here in the Northern Rivers, many of whom faced and still face unexpected income loss, to explore the ways in which we can amplify our human capacity to creatively respond to adversity.
We offered at-home creative residencies to makers, artists, musicians, designers, arts workers, techs, crafters and idea innovators that have been affected by the Coronavirus, across the digital screen and into the home of our Northern Rivers community.
The Together//Alone program sees artists creative respond that counteract our lack of access to our shared creative community gathering places of The Quad and Lismore Regional Gallery, and set a provocation for contributing artists:
'How do we remain connected to community places from our homes?'
We asked that a component of the project be able to be shared digitally so that our community can connect and engage with the work; view it, sing along to it, dance to it, admire it, read it...be inspired by it, and feel a sense of connection with community.
We had an amazing response from so many wonderful, creative and inspiring artists across the Northern Rivers.
The Together//Alone artists cohort are: Brett Canning, Katie Cooper-Wares, Philip Channells, Sean Campbell, Robbie Alejandro Tinning, Annie Tinning, Kevin Privett, Ariel Cameron, Rich Stone, Beki Davies, Elvis Callaghan, Dave Hickson, Karenza Ebejer, Tim Fry, Tania Marlowe, Lisa Walker, Jo Kambourian, Kate Stroud and Sigrid Macdonald.
Please go into our Featured artists page to experience each of their work.
Thank you also to ALL of the Norther Rivers artists who applied.
This program was made possible through the support of Create NSW.



If you have any further questions please contact jane.fuller@lismore.nsw.gov.au
This project is supported by the NSW Government through Create NSW.