Post Normal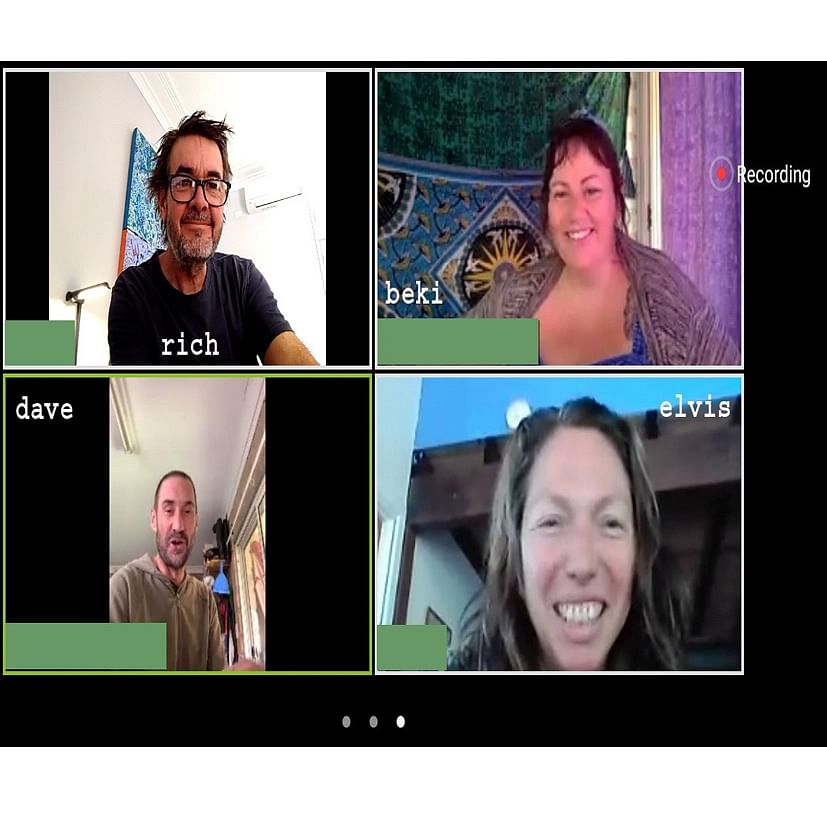 Artists:
Rich Stone - DESIGN
Beki Davies - PRINT MAKING / CERAMICS
Dave Hickson - SCULPTURE
Elvis Callaghan - VIDEO ART / FILM MAKING
About This Project:
'Post-Normal' is a collaborative project undertaken by four Northern Rivers artists – Rich Stone, Beki Davies, Dave Hickson & Elvis Callaghan, during the 'stay at home' period of the Coronavirus pandemic. The goal of this project is to create (& document) a single, free standing artwork that is developed sequentially in distinct, separate, isolated stages by each of the artists. The process will be recorded and then developed into a video art piece, as an integral component of the work.

Upon receiving the artwork, each artist is free to interpret and add to the piece without constraint, but with perhaps an aim to maintain a sense of group cohesion and purpose for the work. The transit and hand-over of the work from artist to artist will follow all social distancing protocols.

Rich > Beki > Dave > Elvis

The project plan is that Rich is to commence the making of the artwork, to then be handed over to Beki for her to progress the work, followed by delivery to Dave to further interpret and complete the piece. The concurrent development of the project film will be carried out by Elvis.

This project and the working method aims to promote communication and creative links within our artistic community, that is fractured by the current pandemic. The artists may enjoy a common, creative experience ('together but alone') and the public can also engage in this process via the sharing of photographic and video recordings as the work progresses.
The Project Outcome:
The project outcome aims to document the interaction of the collaborators and the creating of a group artwork. An infusion of additional themes, in the context of our current times, will complement the production of a film component of this project.
Video
You can follow the collaborators and their project; Post-Normal as it unfolds live, via their websites and various social media platforms:
Rich
Web
https://rsd245.weebly.com/post-normal-project.html
Instagram
https://www.instagram.com/sneak880/
Beki
Web
https://www.bekidavies.com/
Instagram
https://www.instagram.com/beki.art/
Dave
Web
https://www.davehickson.net/
Instagram
https://www.instagram.com/davehickson1/
Elvis
Instagram
https://www.instagram.com/elvis.elise.1/
For Interest ...
Post-normal science (PNS) represents a novel approach for the use of science on issues where "facts [are] uncertain, values in dispute, stakes high and decisions urgent". PNS was developed in the 1990s by Silvio Funtowicz and Jerome R. Ravetz.
Refer: https://en.wikipedia.org/wiki/Post-normal_science
About the Artist:
Rich
Rich Stone is a designer with interests in art-piece furniture, drawing and photography. His work in recent years includes the development and making of interesting, practical art.

Beki
Beki Davies is a local artist working predominantly with printmaking and ceramics. Her work is currently exploring contemporary landscapes, focusing on the experience of Place.

Dave
Dave Hickson is a sculptor, drawer and photographer. His 3D work hovers between abstraction and figuration; working with wood, welded steel, wire and clay.

Elvis
Elise Callaghan ('Elvis') is a local performance artist, musician, educator and film maker with a particular interest in documenting the stories of the unique creative culture of the area.
Acknowledgements
Together//Alone is a rapid response project supported by The Quad, Lismore Regional Gallery through Create NSW

Find out more about the Together//Alone Artists